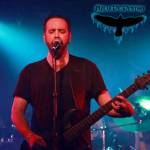 Details
5 posts

---

Male
Living in United States
About
A heavy metal band hailing from Phoenix, Arizona. Malo De Dentro brings a new brand of metal; fusing the deep tribal beats of the southwest, with hard hitting metal. Genre
Heavy Metal

Band Members
Stone Martin - Vocals/Guitar,
Dennis Stanton - Lead Guitar,
Mike Johnson - Bass,
Brett McKinney - Drums

Hometown
Phoenix, Arizona USA

Biography
There's a powerfully epic force traversing the foothills of the Arizona desert landscape. It's low and rumbling, shaking the ground underfoot like a runaway train colliding with dump truck full of TNT. It's angry and aggressive, like a ferociously devastating monsoon storm laying waste to everything in its path. Most of all, it's live and loud—or exactly what Malo de Dentro's loyal fans experience each and every time the evil within comes out on stage for the entire world to behold.

This is perhaps the most accurate description of Malo de Dentro, a band that has contributed so much blood, sweat and chords to the already storied local Phoenix heavy metal music scene over the years. Since its founding in 2005 by guitarist Chuck Simoes and drummer Brett "Sixkiller' Mckinney, this talented group of musicians has been thrashing through song after song with the same heightened intensity, palpable excitement, and expert showmanship that has made them a legend in the local Phoenix music scene over the past 11 years.