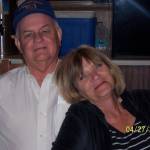 Details
1 posts

---

Female
05/04/1954
Living in United States
About
Joe Settlemires is one of Oklahoma's most prolific and celebrated musicians. Joe began playing guitar
professionally at the age of 14. He landed one of country music's most prestigious gigs, playing with the
legendary Bob Wills and the Texas Playboys, at the age of 19 when regular guitarist Tag Lambert fell ill
with pneumonia and couldn't go out on the road. At Lambert's suggestion, the Playboys' tour bus rolled
into Guthrie to pick up the young string slinger and the rest, as they say, is history as Settlemires became
known as "The Youngest Texas Playboy."
In the years that followed, Settlemires played with a "Who's Who" of country music legends including
Willie Nelson, Loretta Lynn, Red Foley, Tex Ritter, Harold Bradley and others. He also backed up perform-
ers in the popular and jazz genres like Bob Hope, Howard Roberts and Pat Martino as well as performing
with the Oklahoma City Symphony.
Though he is well known for his technical prowess on the guitar, Joe is complete musician, having written
arrangements for thousands of songs and passed his musical legacy along to hundreds of aspiring guitar
players down through the years through private instruction. Settlemires' students have gone on to play
with musicians and groups like Merle Haggard, George Strait, Neil Diamond, Restless Heart, the Judds,
Charlie Hall, Hayes Carll and others.
After teaching at Oklahoma Christian College, Settlemires found a permanent home at the University of
Science and Arts of Oklahoma. In 2001, Settlemires founded the USAO Showband, which remains under
his direction. For more than ten years, USAO musicians have enjoyed the benefit of his expertise as
Settlemires has taken them out on the road and into the studio to experience working in the music
industry first hand. Since 2010, the Showband has wowed audiences at the Bob Wills Festival in Turkey,
Texas and established USAO as the destination for student musicians interested in contributing to the
legacy of Western Swing.
Settlemires has recorded two jazz albums, Canadian Sunset and Sugarfoot Rag. Sugarfoot Rag was
nominated for two Grammy awards in 2008, "Best Jazz Instrumental Album, Individual or Group" and
"Best Country Instrumental Performance" category for the title song, a collaboration with Harold Brad-
ley and Vince Gill.
Joe has recorded more recently two Western Swing albums, Remember Me, an instrumental recording,
and Northfield Swing featuring Hank Adam Locklin and Kristin Killion.
Settlemires' unmistakable contribution to American music has been recognized by four halls of fame and
in 2006, the Oklahoma State Legislature recognized him for his 50 years of contribution and dedication to
both the Oklahoma music industry and music education in the private and public sector.