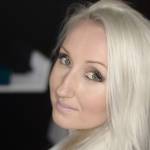 Details
192 posts

---

Female
Single

---

Living in Poland

Located in Poland
About
Nathali Shai, a Poland Native, was born the daughter of a great vocalist and musician. Unfortunately, when she was just one year old, her father, who she believes to have gotten her vocal talent from, passed away. At a very young age, she began to sing and write songs to perform for anyone who would lend an ear. At the age of 13, she performed as a special guest on the main stage of one of Poland's largest music festivals. Nathali's live performances were so captivating that she caught the attention of a modeling agency. It was not long before she was chosen to compete for the title of Miss Poland. She quickly became one of the top models for the Grabowska Agency. Even, with her success in modeling, her passion for music never faded. No matter what, she was never deterred from her dreams of the being in the music industry.

As she became stronger as a singer and writer, Nathali's fan base began to grow. With the release of cover songs, like "Help the People" and "Say Something", on YouTube, it became evident that her vocal abilities created an instant emotional connection with whoever heard her angelic voice.

Nathali often credits Sebastian Thiel for the success of her first single, "My Game". Because of the promotion of this song, Kenny Lewis, a producer from Middleton, MA, found her. Kenny then made a great remix of "My Game". The new mix gave the track more of an American feel and brought out some of Nathali's unique vocal characteristics. This opened her up to an American audience, and she quickly became the #1 played artist on Boston Station, WJMX.

Kenny was working with her, along with producer/music director Mark Delcore and Writer/Producer Bryan Lamontagne. Nathali is quickly catching the attention of fans and industry alike. According to Twtrland, a social analytics tool, Nathali is in the top 10% of popular accounts on twitter. Her fan base has grown to almost 80,000 people in less than a year, and she is very devoted to her fans and followers. She also hit #1 on Reverbnation Krakow in May 2015 for pop vocalist and remained there through September 2015. She is now under management contract with Bruce W. Jackson, CEO of Jackson Media Associates - JMA.