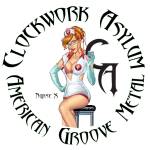 Details
5 posts

---

Male
//08/30/1979
Single

---

Living in United States
About
Somewhere, lost in the haze of the Smoky Mountains, there are 6 musicians who have come together to forge a new path in the ancient forest known as rock music.
This is CLOCKWORK ASYLUM.
Brought together by failure, united by desire, and cemented by passion, Clockwork Asylum is a band that leaves everything on the table. No holds barred southern metal, with a groove that makes you move!
Vocalist KW Longenstein, guitarists Sam Price and Randy Humphrey, bassist Brian Michaels, and drummer Thomas Tittle are all accomplished and experienced players, who have honed their craft in several projects that have played all over the southeast. In 2018, Taylor FIllers joined the project to fill the spot left when Sam took a temporary hiatus, and she brings with her a talent and dedication that the band is proud to have! The collective plans to take their hard hitting music, explosive energy, and engaging stage performance to many locations on the highways and byways of the world!
Keep your eyes open for updates, music releases, and tour info....Are you ready for admittance to the Asylum?