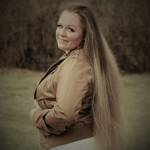 Details
14 posts

---

Female
08/1988/22
Married

---

Living in United States

Located in Covington, Ky
About
Jean has been singing since she was a little girl. Music has been her escape, in elementary school, she sang in talent shows and was in choir for a short while. After school she sang in karaoke bars and in the car on her way to and from work. It wasn't until she met her husband in 2013 and he discovered her ability to sing, they started making cover videos on YouTube.

Jean's biggest influences come from two of her mother's favorite country stars, Patsy Cline and Loretta Lynn, as well as those from her own favorites list including, Reba McEntire, Martina McBride, Carrie Underwood and Pink. Much like Loretta Lynn, Jean is a Kentucky girl born and raised. Growing up she listened to all genres of music but claims nothing beats the twang of an ol' country boy or girl and the sound of a steel guitar. Country music has always called to her and made her feel like she was back home even though she's much closer to the city now.

She has auditioned for The Voice in several cities including Chicago, New York City, Indianapolis, and most recently Music City, Nashville. After not making it through to the next round of her first audition in Chicago, she felt defeated until she saw the determination in her husband Nick's face that said "you can do this" and "we're not giving up". In that moment, Jean realized that her husband was right and she wasn't going to let the opinion of a single person be the reason she didn't pursue her dream. Along with her husband, her three children, Zach, Madison and Morgan have been her biggest fans and supporters throughout her auditions.

Jean is just starting to break into the music world as a solo artist and is currently working on finding her own "voice" in songwriting. Jean says even if she doesn't make it to the "BIG TIME" as long as she gets to sing she will be happy, and happiness should always be considered success.