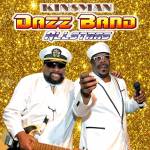 Details
2 posts

---

Male
07/1956/23
Single

---

Living in United States
About
KDB ALLSTARS/ BIO

Cleveland Ohio 1975: Michael J. Calhoun, Kenny Pettus and The Wiley Brothers..
(Isaac and Michael) formed a Funk Soul band Ebony Sweat and later Bell
Telephunk. " (A band Isaac joined after Ebony Sweat disbanded) along with new
acquaintance, Bobby Harris. The Group eventually evolved into Kinsman Dazz and
later Dazz Band.  Michael J. Calhoun, Kenny Pettus, Isaac Michael Wiley along with
Bobby Harris are the founding fathers of the Grammy Award-Winning Dazz Band.
Managers William (Sonny) Jones, Joe Simone and Ray Calabrese were the driving
forces and mentors of the band.  Kinsman Dazz signed with Twentieth Century Fox
Records where the band was mentored by the likes of Marvin Gaye, Phillip Bailey,
Ralph Johnson and Tommy Vicari.. .... They moved to Motown Records where the
band had the experience of working with Reggie Andrews and other great producers
that were part of the Motown stable. While Mikes guitar playing and Kennys singing
has always stood out, they were also two of the primary songwriters for the Dazz Band.
They wrote hits like Invitation to Love, co-wrote Knock Knock, Shake it Up and
Freaky Loving and continued to pump out quality material over the next few years. In
2018 Michael and Kenny are still building on the legacy they helped create.... Their
latest single SoulJam is a funky party song reminiscent of the throwback soul hits like
Function at the Junction and Stone Soul Picnic while capitalizing on the ultra smooth
RB style Bruno Mars has brought back in Vogue.

Current Members include: Michael J. Calhoun, Kenny Pettus, George Pearson, Eugene
Wilson, Daniel Spearman, Rick Marks, Joseph Payne, Ollie Bohannon, Danny Wilson,
Moe Betta Beatz. SoulJam Produced by: Michael J. Calhoun, Bernard Pettus KDB
Allstars.